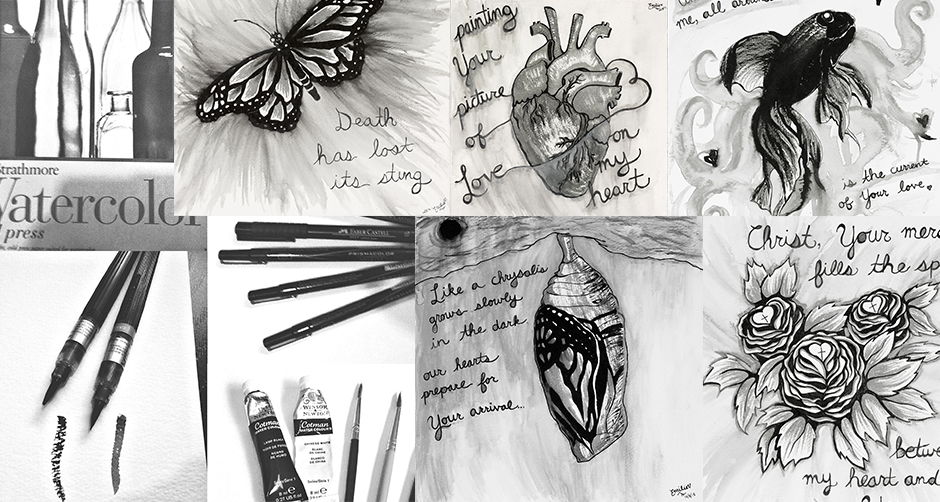 A Beautiful Liturgy: Creating Fine Art Pieces For Each Song
Hey, everyone, it's Emilie!
While writing and recording this EP, I had the idea of creating five special art pieces that would represent each of the songs on our project in a meaningful way. Art has always been a huge part of who I am, but being primarily a graphic artist, it was only recently that I felt the need to dabble into fine art again and rediscover my love for it. I thought it would be a fun idea to show you guys how these art pieces came about, what I used to create them, and the story and inspiration behind each one!
PROCESS AND MATERIALS:
My process for each art piece was pretty much the same because I wanted to make a uniform set of art that would look great together! I decided to stick to grayscale, using only black, white and gray. I wanted to create something beautiful that wouldn't be flashy, which goes a lot with the mission of our music, so I thought doing so would be fitting. Since I would partly be using watercolors and really wanted some good texture, I started out with a pad of watercolor paper. I then sketched out the design in pencil. Once I had the general concept to my liking, I traced over the pencil lines with marker. I have always used Faber-Castel but more recently have transitioned into using Prismacolor (much better quality!), and in both of these pieces I used a combination of both of those pens depending on the line thickness, even resorting to Sharpie for the darker areas. For the paint steps, I mixed up some gray liquid watercolor, and also used black and grey brush pens (Pentel's Color Brushes are fantastic!).
---
LORD HAVE MERCY:
This art is vaguely inspired by the Luther Rose, a symbol that represents the Lutheran Church. The very center of the original symbol features a cross in the center of a heart. I wanted to incorporate that element of the symbol inside a more detailed and semi-realistic rose drawing, therefore hinting at Lutheranism while representing Christ "filling the space" between our hearts and his. The song that this artwork represents is about confession, and these roses show that even though we are messy human beings and even though we have sinned, Christ has made us pure, clean, and beautiful in his sight.
---
FROM SHORE TO SHORE:
I based this artwork on one of my favorite quotes from the song. Originally I was going to do a piece that depicted a beach or a wave, but I felt it wouldn't fit with the other pieces. I finally came to the idea of drawing a fish in the midst of the water, letting the current carry him, like the current of God's love carries us. I felt like it represented the oceanic themes of the song really well!
---
O TO BE LIKE YOU:
This was actually the first piece I did, as it was the first song we wrote and recorded. I based the art off of the lyric "painting your picture of love on my heart." I had the idea of doing an anatomical heart, not so realistic that it's gross, but realistic enough that it makes a statement. A subtle idea I incorporated into the piece was hinting at the symbol of a heart to connect the lettering around the anatomical heart.
---
YOU'RE COMING SOON:
This is my personal favorite, and the one I spent the most time on. While writing this song about advent, we came up with the metaphor of a chrysalis (a.k.a. a pupa or cocoon) to represent our time of waiting for the coming of Jesus. This powerful symbol shows us that even in the darkest of times, when it seems like nothing is happening, something beautiful truly is on its way. Advent is a time that we take a step back and prepare our hearts for the Lord, and sometimes going that deeply into our hearts, we will find ourselves in a dark place. But in that darkness God is always creating a wonderful masterpiece…
---
TODAY A RISEN KING:
This was the very last piece I created, and I scrapped a couple of ideas before realizing that this triumphant Easter piece could be a "sequel" or continuation of the Advent piece. While "You're Coming Soon" represents the time of anticipation before Christ's birth, Easter represents the celebration of him rising from the dead! So what better way to represent that than a butterfly who has emerged from its chrysalis?
---